Hello guys!
I hope you all are doing well.This is Sweety, Creative Designer at craftyscrappers
and today I am here with my inspiration post for our ongoing challenge…
Challenge#29:COLORS-speak louder than words!(FACEBOOK)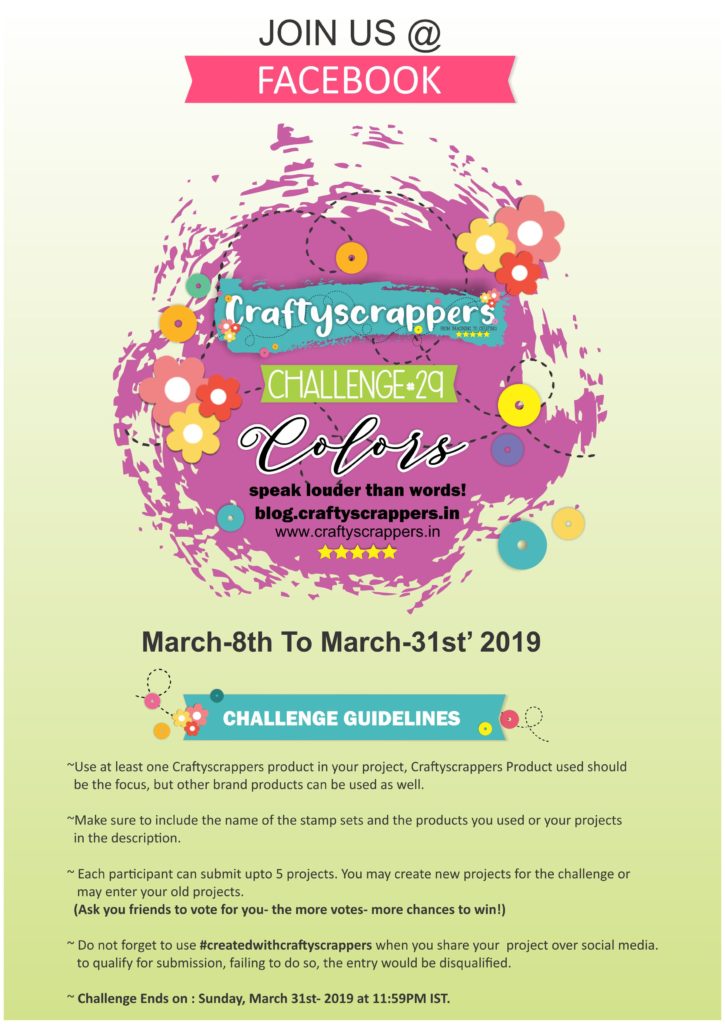 I hope you are having fun with your stamps and creating something new everyday. So today, I have a few fun ideas for you to try.

i also have  a video tutorial on how i created them, do check them out at Craftyscrappers

So to create my card i have used the gorgeous stamp set, CELEBRATE HOLI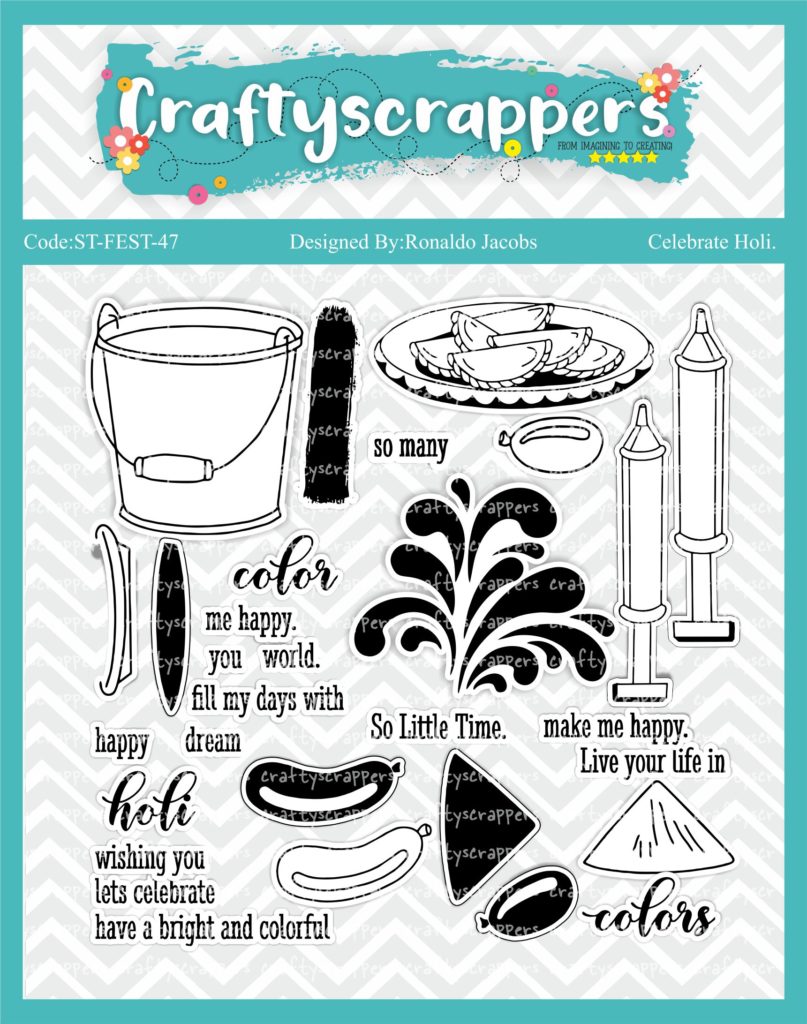 CARD#1: INTERACTIVE HOLI CARD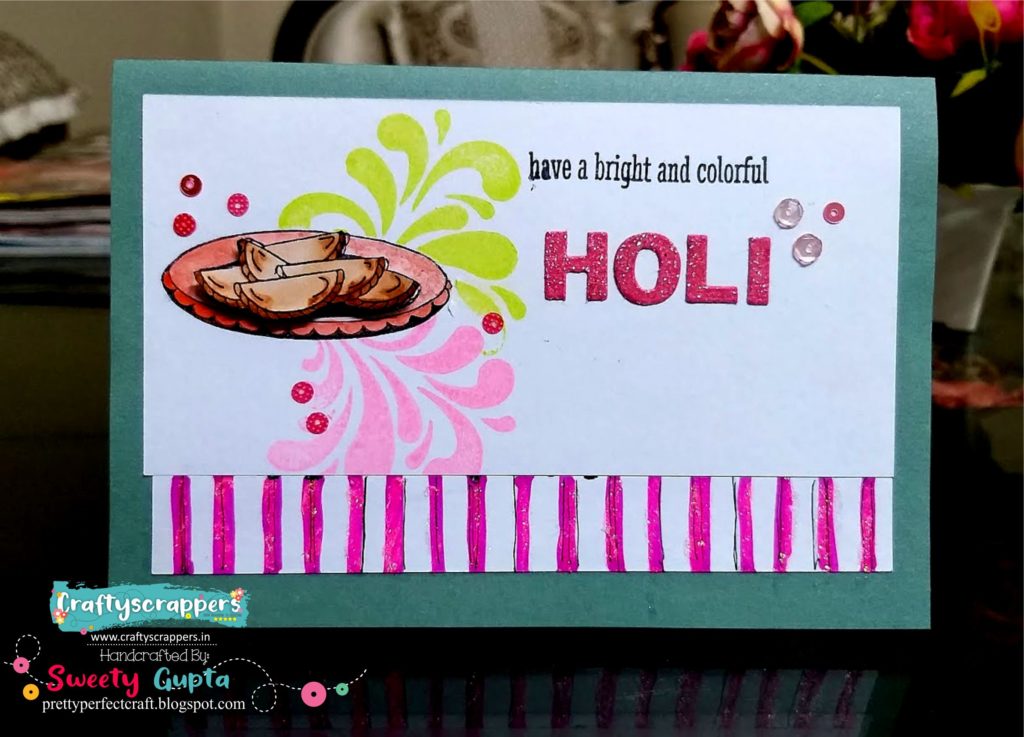 This card features a beautiful 3D pop up of 3 plates of Holi colours.
A BRIEF TUTORIAL:
On the front, we have a plate of sweets which are popped on foam squares.
Thus, making it look more interesting. I coloured everything using Camlin watercolour palette. 
The inside features the Holi colours but with a twist. I used shimmer paste and dazzle paste to make them look more realistic and pretty.
I have to say I love the pink coz it's just so shimmery.
It kind of reminds me of the mica that's there in Holi colours.
Heres how the inside look: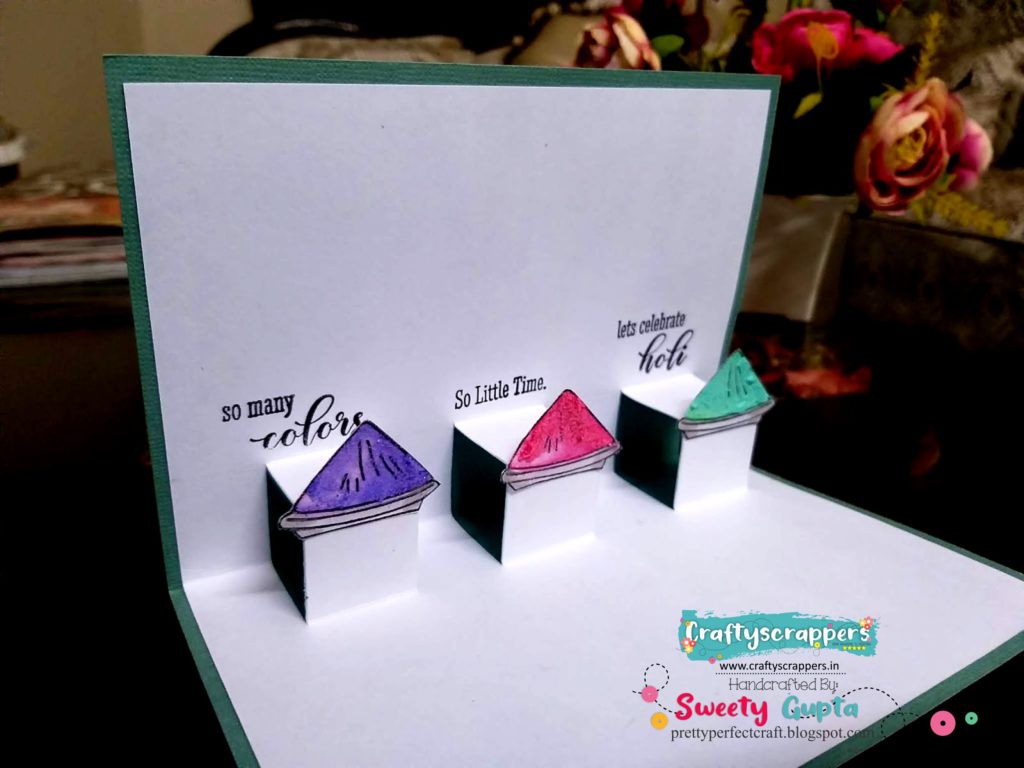 CARD#2: Hand print card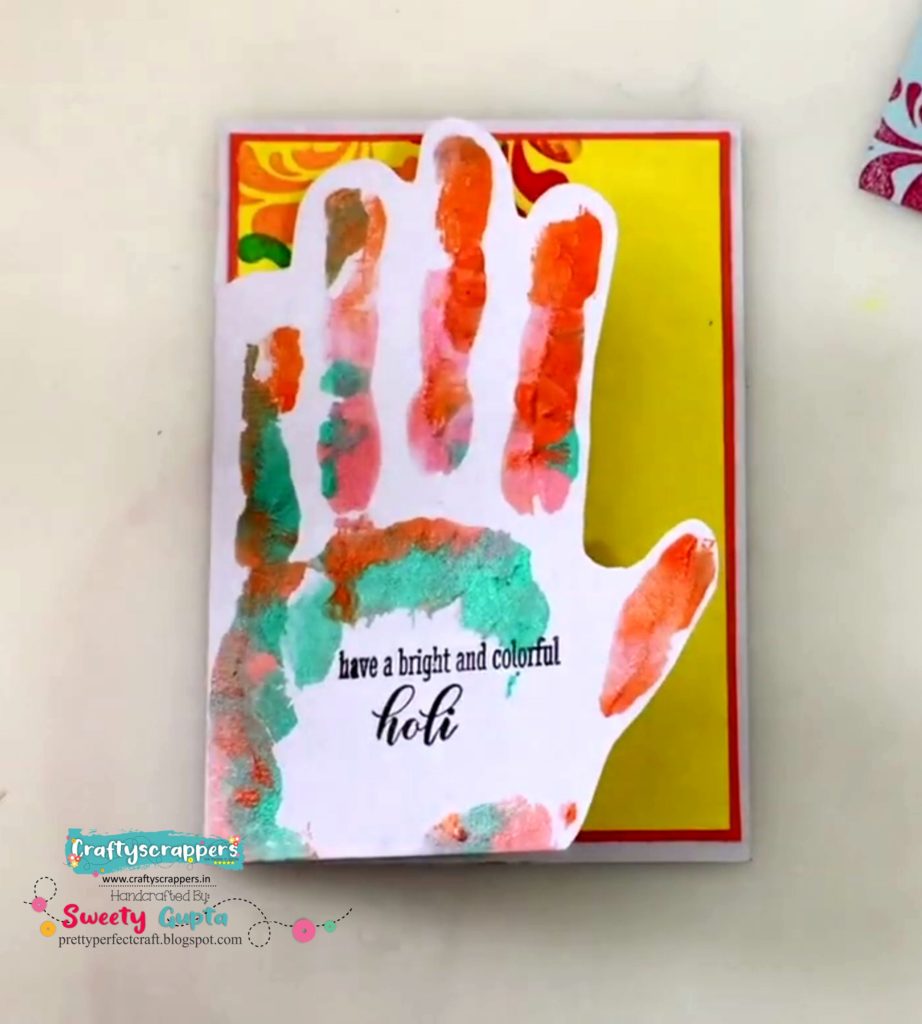 This card can be easily mass produced and is so much fun to create. I used Craftyscrappers shimmer colours to print my hand on the card. These are colours with metallic shine on them, so they come out really beautifully on the card. To see how I created this card, check out the video.
Heres a close-up: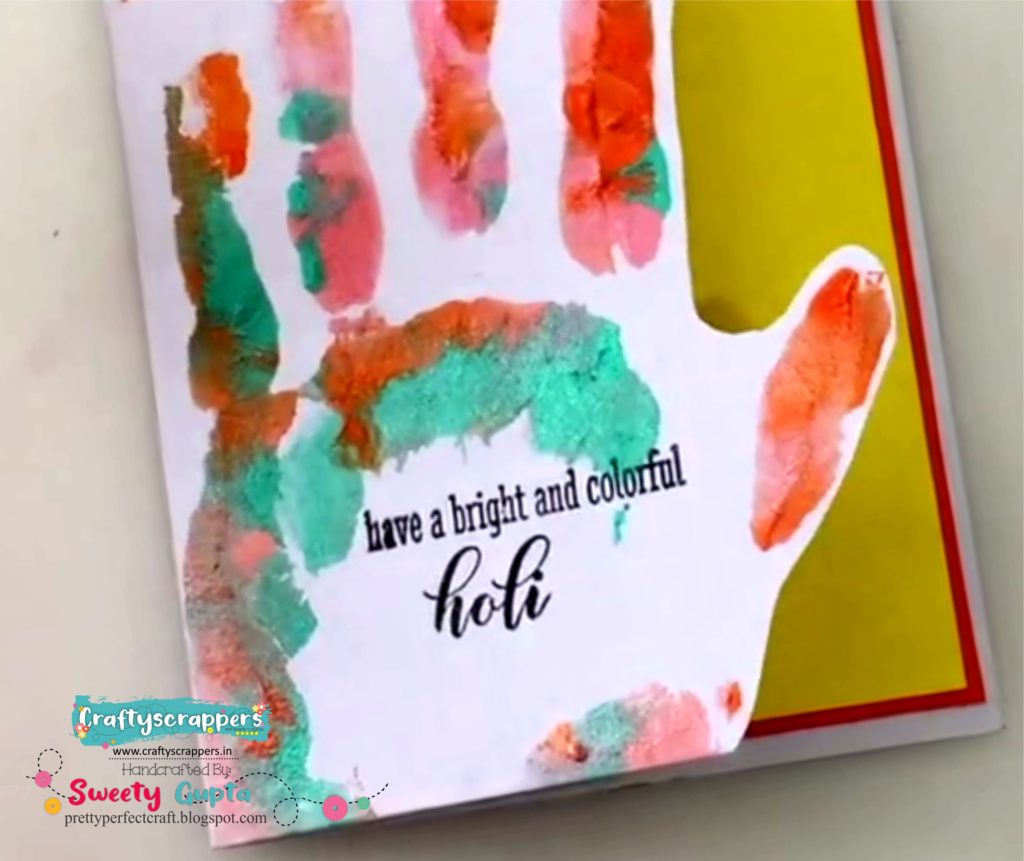 CARD#3: ALL OCCASION CARD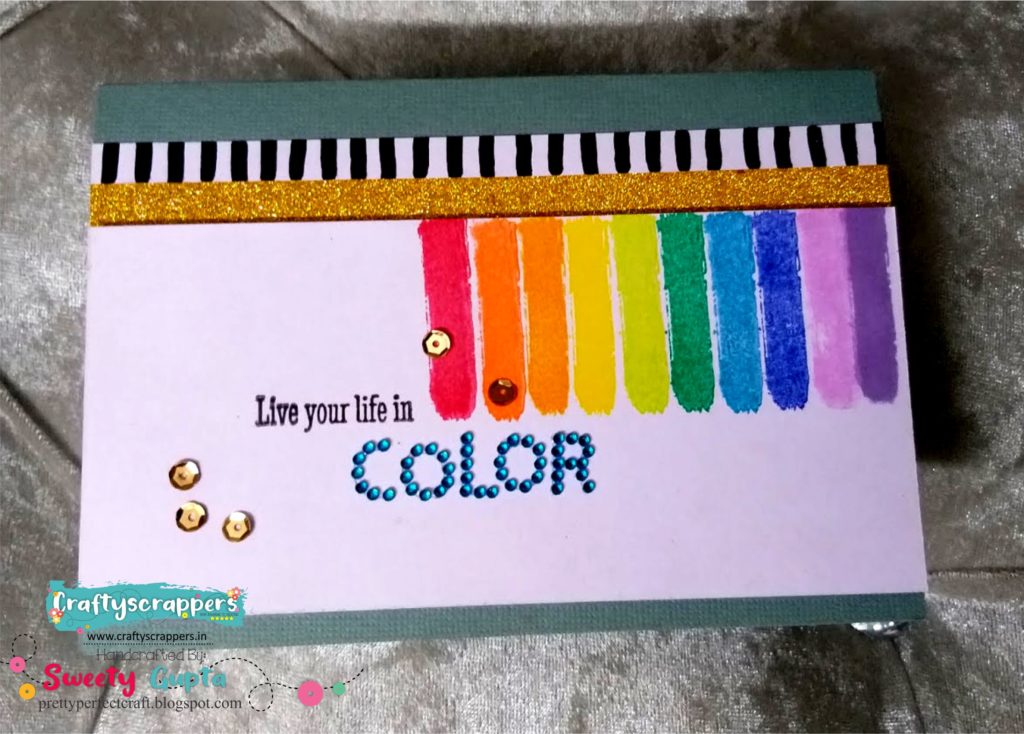 This is such a versatile stamp set.
A BRIEF TUTORIAL:
I created this card using the brushstroke image from the stamp.
I think I used all of the colours I had in my possession to create the rainbow.
I added shaker elements to complete the look of my card. One box of these shaker elements goes a long way.
So This is all from my side for today,
I hope you liked these projecte and i will be back soon with another set of inspirations for you all.
Do let me know how you like this project in the comments below.Until then Happy Crafting 🙂  
Don't forget to join in our craft challenges
(details at the beginning of the post)
You can  participate via Facebook, Instagram and even via email.
(While sharing your creation post over the social media, ie
Facebook/twitter/Instagram
please use #Craftyscrapperschallenge29 to qualify for submission,
failing to do so, the entry would be disqualified.) 

Thanks for stopping by.
Have a crafty day ahead !